VLADIMIR McTAVISH: 60 LAST MINUTES TO SAVE THE WORLD
When:
Saturday 26 June, 2021 @ 7:00pm – 8:00pm
2021-06-26T19:00:00+01:00
2021-06-26T20:00:00+01:00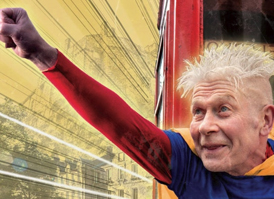 • Fri 25 to Sun 27 June @ 7:00pm •
(1 hour)
Global warming, fake news, Brexit, climate change, terrorism. At the start of this decade, he UK was f***ed and the rest of planet was on the brink. And then we had a global pandemic. Vladimir McTavish's post-Covid update of his 2019 sell-out Edinburgh Fringe show '60 Minutes to save the World' offers some positive, comic solutions to stop humanity falling into the abyss. It could be our last chance.
As seen on BBC Scotland Comedy Underground.
"One of the finest acts on the Scottish comedy circuit" (The Guardian)
"Amiable yet strident swipes at the horrors in store" (The Scotsman)
"inspired comedy brilliance" (Australian Stage)
Tickets £7