STOPH DEMETRIOU: ACTING IN BAD FAITH (FREE!)
When:
Saturday 5 June, 2021 @ 8:45pm – 9:45pm
2021-06-05T20:45:00+01:00
2021-06-05T21:45:00+01:00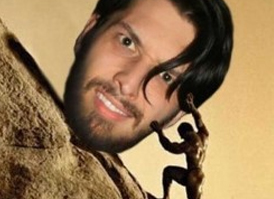 • Sat 5 & 12 June @ 8:45pm •
(1 hour)
We all lie to ourselves. Stoph has convinced himself that his failures aren't his fault, but the truth that they are gnaws away at him and wakes him at 4am to say "you're wasting your life!"
Stoph seeks the advice of his granddad – who was raised on a peasant farm, left school at 11 years old, lost his land in a war and came to London with just £10 to start a new life – in order to get some perspective on his 'problems'.
"Amazing. Innovative, energetic and superbly written" ★★★★★ (Bunbury Magazine)
FREE ENTRY!