When:
Monday 4 May, 2020 @ 7:00pm – Tuesday 26 May, 2020 @ 7:00pm
2020-05-04T19:00:00+01:00
2020-05-26T19:00:00+01:00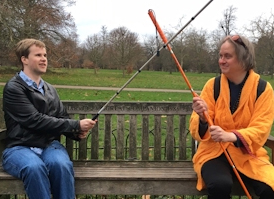 • Mon 4 & Tue 5 May @ 7:00pm •
• Mon 25 & Tue 26 May @ 7:00pm •
(1 hour)
Building a world with words then painting it impossibly vibrant colours, this is blindcraft.
Tales of Hamlet the mysteriously quiet dog, tales of the blind Hogwarts, tails or head it doesn't matter what we call we always lose the coin toss because we see the world in a different way.
We have blind jokes and stories of sightless travails, but there's so much more to us than that. Richard Wheatley is a high energy nerd with a talent for audience chat whereas Stephen Portlock is a neurotic with OCD and a surreal sense of the abstract, and a blind neurotic can get seriously abstract!
Two blind stand-ups with totally contrasting styles, Young and old, cerebral humour or cheap laughs, we have you covered.
Come with us as we lead you into the brightly coloured darkness of the blind, hear our stories, laugh at us when we inevitably walk into the microphone stand or fall off the stage and gasp with amazement as we turn that fall into a somersault and land perfectly in the chair deliberately left empty… okay that might be unlikely but now I write it I think I might have to try.
Richard Wheatley: "blindingly funny *****" the Deric Awards, Edinburgh August 2019
Stephen Portlock: "Excellent" Ultimate Radio
Entry £5