When:
Monday 31 May, 2021 @ 5:15pm – 6:15pm
2021-05-31T17:15:00+01:00
2021-05-31T18:15:00+01:00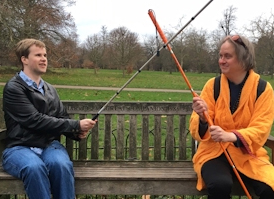 • Sat 29 May to Mon 31 May @ 5:15pm •
• Tue 1 June @ 7:00pm •
(1 hour)
Building a world with words then painting it in impossibly vibrant colours, this is 'Blindcraft'.
Tales of hamlet the mysteriously quiet guide dog, tales of the blind Hogwarts; tails or heads it doesn't matter what we call, we always lose the coin toss because we see the world in a different way.
Richard is a high-energy nerd with a talent for audience chat and Stephen is a neurotic with OCD and a surreal sense of the abstract, and a blind neurotic can get seriously abstract!
Richard Wheatley: "blindingly funny" ★★★★★ (The Derek Qwards)
Stephen Portlock: "Excellent" (Ultimate Radio)
FREE ENTRY!