JOE WELLS: EVERYTHING IS AN ATTEMPT TO BE HUMAN
When:
Saturday 26 June, 2021 @ 8:45pm – 9:45pm
2021-06-26T20:45:00+01:00
2021-06-26T21:45:00+01:00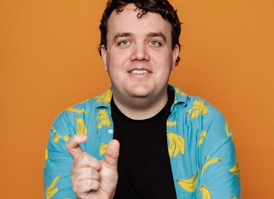 • Sat 26 June @ 3:30pm & 8:45pm •
• Sun 27 June @ 3:30pm •
(1 hour)
William Blake said that everything is an attempt to be human. Autistic comedian Joe Wells can relate.
A work-in-progress stand up show about carving out your identity whilst trying to fit in with everyone else.
Tour support for Frankie Boyle and Alexei Sayle.
As seen on BBC2's Ouch! Storytelling Live.
Writer for BBC1's Have I Got News For You.
As seen in Viral Video "What it's like to have a brother who is not autistic", over 1.4 million views.
"some of the most intelligent and thought-provoking material coming from any comedian" – The Guardian
"delivered with great rhythm, a very high gag rate, and some wicked misdirections. It is genuinely funny in among all the feelings; the two elements don't clash." – Chortle
Tickets £5