ROSS DRUMMOND & HARRY MONAGHAN: THE JERK STORE (FREE!)
When:
Friday 25 June, 2021 @ 10:30pm – 11:30pm
2021-06-25T22:30:00+01:00
2021-06-25T23:30:00+01:00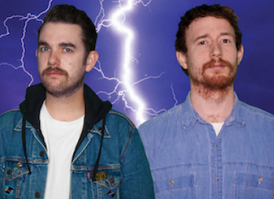 • Fri 25 & Sat 26 June @ 10:30pm •
(1 hour)
The Jerk Store.
Comedy Record Label, Podcast Network and monthly night.
Financially crippling? Almost certainly.
Undeniably fun? You got it!
And now, a jam-packed hour of entertainment for you to experience.
Join Ross and Harry as they debut material not previously heard on any of the labels EPs and prep for their own upcoming debut hours.
They're talking scarecrows, Nu-Metal, Upper Crust, netball, 'The Sound of Music', hay fever and more! Y'know, the relatable stuff. Your mum would probably like them.
Maybe? Or not… Come find out!
FREE ENTRY!