When:
Friday 20 March, 2020 @ 7:30pm – 10:30pm
2020-03-20T19:30:00+00:00
2020-03-20T22:30:00+00:00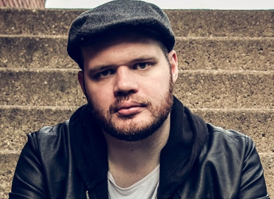 Hello folks, and welcome to another On The Edge Comedy, this time with headliner Mark Cram!
During this time Mark has shared the bill with the likes of Gary Delaney, Shazia Mirza, Nick Helm & Isy Suttie. In 2010 he was one quarter of the Edinburgh Fringe Show 'No Free Lunch' and returned in 2011 with the show 'Journey to the Centre of Somewhere.' 2014 sees him working on his first solo hour 'Cramnesia' for a short run in Edinburgh and at various small fringe festivals.
A gay comedian who bucks the trend by being about as camp as a Die Hard boxset, Mark thrills crowds with his tales of dead-end jobs, his family, being the less than grateful winner of Bedford Comedian of the Year (although we're quite proud of his win) as well as his sexuality.
Supporting Mark we have a stellar line up of comedians for you too.