When:
Friday 18 June, 2021 @ 8:45pm – 9:45pm
2021-06-18T20:45:00+01:00
2021-06-18T21:45:00+01:00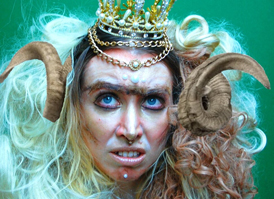 • Thu 17 to Sat 19 June @ 8:45pm •
(1 hour)
Ram will nourish you
Ram will punish you
Ram will come again!
Welcome to the church of Ram, where sheep are people, people are sheeple and the apocalypse is just getting started. Bow down, rest your head against the holy breast and suckle on the holy teat: only Ram can save you now. Part religious ceremony, part stadium rock concert, part cult AGM, this immersive sermon asks wild philosophical questions and provides long lasting and uniquely milk-based catharsis.
World premiere. Created with Soho Theatre's Cabaret & Drag lab and supported by Arts Council England.
"Deliciously daft" ★★★★ (The Guardian)
"Wickedly funny, its view of the world is wholly singular and utterly deserving of attention" ★★★★★ (A Younger Theatre)
"Joyously unhinged" ★★★★ (Reviews Hub)
"Brilliantly understated comic with the punk spirit of the Sex Pistols" ★★★★ (The Scotsman)
Praise be to Ram.
Tickets £8