LILY PHILLIPS: SMUT (FREE!)
When:
Thursday 7 May, 2020 @ 8:15pm – Sunday 31 May, 2020 @ 8:15pm
2020-05-07T20:15:00+01:00
2020-05-31T20:15:00+01:00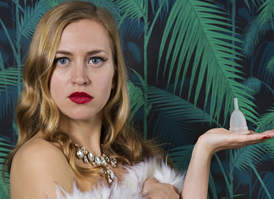 • Thu 7 & Sun 31 May @ 8:15pm •
(1 hour)
As seen on BBC3 & ITV2, join Pleasance Comedy Reserve Comedian, Funny Women finalist, Leicester Square New Comedian of the Year finalist and Max Turner finalist, Lily Phillips, on her journey from cheerleader to feminist.
Female comedians are often criticized for only talking about vaginas and periods, which is offensive, but in this case 100% accurate. How many vagina jokes can she fit into an hour long show? Let's find out.
Jam-packed with vag jokes, mischievous wit and a whole lot of smut!
"Funny bones and great hair" (This is Cabaret)
"Charming and moderately obscene" **** (The Scotsman)
FREE ENTRY!