BITTER SOUR: BRING BACK MY GHOULZ
When:
Saturday 7 August, 2021 @ 7:00pm – 10:00pm
2021-08-07T19:00:00+01:00
2021-08-07T22:00:00+01:00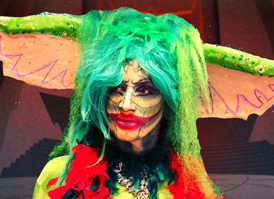 Haus of Fakewell Presents: Bring Back My Ghoulz!
It is summer 1984 and it's time for your parents to send you to your annual summer camp trip!
You arrive and start to settle in your cabins to prepare for the journey of a life time. BUT not before gathering round the campfire. Come join me, my creatures!
…For, it is time for Camp Fakewell's greatest tradition.. the telling of horror and ghost stories!
Grab your marshmallows and your mug of cocoa and hold onto your jewels, as this is one show that'll give you the heebie jeebies! It'll be spooky, camp, scary and all out ridiculous! You may laugh, you may cry, you may lose your minds! BUT not before your initiation into the camp.
Who will tell the scariest tale; well..you'll need to come find out won't you?
See you there.. if you DARE! X
Dress code: there isn't one! But camp attire is encouraged if you fancy it.Access: if you have any accessibility requests email me on cherryfakewell1@gmail.com
Pride: this is a pride show (unofficial) so will have some pride influence and 10% of the profit will go to mind out charity. Remember let's stand together and be proud
Cherry xx

Tickets £10