Art
"Original art for sale by local artists"
Great food and drink, fantastic DJs, amazing comedy and other events… what more can the Caroline of Brunswick have to offer? Stunning artwork, that's what! Our walls don't just hold the ceiling up; they're a gallery space for original paintings, photographs and sculptures by some of the city's most talented artists, most of which are available to buy.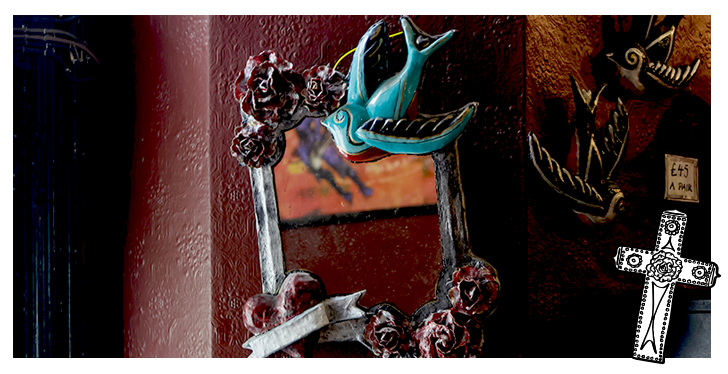 MAHNI DARE – Mexicana-voodoo-gothic-kitsch
Responsible for the huge sculpture of Cerberus which hangs over the bar, Mahni usually works on a smaller scale, and creates elaborate crosses, mirrors and more. www.mahni-monster.com
DARK WOLVES – digital fantasy art Dark Wolves are Colin Everett & Ron Filton.
Their art is influenced by HP Lovecraft, HR Giger, Mervyn Peake and Hieronymus Bosch. www.darkwolves.co.uk
IAIN JOHNSTON – MetalMorphis Industrial Art
Iain works with metal and a welding torch to create large and impressive works of industrial art. www.metalmorphisindustrialart.com
KATE KAMIKAZE … aka Kate Shields
Now working under the name Kate Shields, some of Kate's older paintings adorn our walls, including her portrait of Natasha "Bat for Lashes" Khan that was commissioned by the Brighton Source for a memorable front cover. kateshields.weebly.com
MICHELLE LAING … playful but dangerous
Michelle is a painter, sculptor and performer, and is displaying some of her dark and futuristic 2D work at the Caroline. www.reactive-art.co.uk
TONY LUKE … digital photographic manipulation
Comic book artist Tony Luke (he created the character Dominator and directed the 2003 animated movie of that name) has four pieces of his work on display at the Caroline.
GENESIS P-ORRIDGE … artistic innovator
Huge thanks to Ru Dilator for letting us display this original piece by Throbbing Gristle / Psychic TV founder Genesis P-Orridge.
SIMON SHERNING … original manipulated art
New Zealand artist Simon Sherning has worked with photo manipulation and now a "more hands-on mixed media approach". His influences include Francis Bacon, Mark Rothko and Paul Klee.